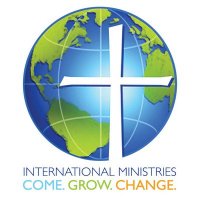 Each week, our congregation provides basic financial support for regional, national, and international ministries of the American Baptist Churches, USA. Our giving supports American Baptist missionaries serving in the United States and 70 nations worldwide.
In addition, we provide added support through several annual offerings. These include: the America For Christ Offering, the One Great Hour Of Sharing Offering, the Retired Ministers & Missionaries "Thank You" Offering, and the World Mission Offering.
You can discover more about our "special interest missionaries" by clicking on the links below:

Yamina Apolinaris
Puerto Rico
Yamina is Director of Corporacion Milagros del Amor, serving the citizens of Caguas, PR

Mercedes & Richard Gonzales-Barnes
Mexico
The Barnes provide leadership development among new church planting in Baja, California

Barbara & Dwight Bolick
Chile
The Bolicks direct ministries of economic & leader development with the Mapuche people.

Ann & Bruce Borquist
Brazil
The Borquists equip Brazilian missionaries for service, and focus on theological education.

Susan Hegarty
Cuba
Susan writes curriculum and study materials for over 300 churches.

Nancy & Steve James
Haiti
Steve and Nancy provide medical care in different hospitals and clinics throughout Haiti.

Patricia & Timothy Long
Mexico
Tim & Patti minister in leadership training among people of the Baja peninsula.

Katharine & Wayne Niles
Congo
The Niles provide leadership in agriculture and medical fields among Congolese Christians.

Ketly & Vital Pierre
Nicaragua
The Pierres help strengthen local churches and encourage existing churches to plant new ones.

Joyce & David Reed
Mexico
The Reeds serve in theological education and new church development in La Paz, Mexico

Paul Sandusky
Pennsylvania
Paul serves as Executive Director of the Rankin Christian Center in Braddock, PA.

Adalia Gutierrez & Ray Schellinger
Mexico
Adalia and Ray work with women of Tijuana, ministering to victims of domestic violence.

Stan Slade
Global Consultant
Stan is global consultant for theological education throughout Iberoamerica.

Karen Smith
Thailand
Karen is Director of the New Life Center, providing emergency services for girls at risk.

Carol & Bucky Sydnor
Nepal
The Sydnors work in development ministries and leadership training.

Kim Weaver
West Virginia
Kim is the Executive Director of the Weirton Christian Center in Weirton, WV.
Community Bible Study
First Baptist Church serves as a host meeting place for the local chapter of this international and non-denominational organization. Community Bible Study classes are composed of people from many different churches who have decided to incorporate a CBS class because it complements their local church and helps them grow spiritually. They encourage class members to belong to and actively support their local churches and to be servants and leaders in their congregations. They have classes for practically everyone. This includes:
Adult classes are offered during the day or evening and can be single gender or co-ed. Children's classes, from infants to middle schoolers, because no matter how young, children need to know about God's love. Teen and student classes to help children grow in friendship, character and their relationship with God.
CBS
meets every Wednesday from 9:30am to 11:30am starting in the Sanctuary.