Welcome!
We are glad you have taken an interest in First Baptist Church. We hope that you will take a closer look at us, because we are confident that you will discover answers to some of the big questions you have been asking.
More importantly, you will find that God is here. If you have not already, you can come to know Him here. Jesus said, "And this is eternal life, that they know you the only true God, and Jesus Christ whom you have sent" (John 17:2). It was Saint Augustine who said that our hearts are restless until they find rest in God. He was right, because we were made in the image and likeness of God and are not really happy until we are at rest in Him. At First Baptist Church your aching heart can find that rest in God.
It may give you comfort to know that you will not be alone. You will also find real people here. You will meet others who have begun life restless and have come to find rest in God. At First Baptist Church you will find fellowship and community. We are part of the family of God and would rejoice to have you join us.
In short, you will find us to be a God centered, caring community of individuals who are excited about having the opportunity to extend to you the same love, hope and joy we have received from the Lord. We extend to you a cordial invitation to join us this coming Sunday as the family assembles to draw near to God through prayer, thoughtful contemporary songs, traditional hymns, and inspiring relevant messages from God's word. We'll be looking for you!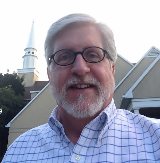 Rev. Daniel Taylor is the Pastor
of First Baptist Church of Dover
SUMMARY OF QUALIFICATIONS
Served as a representative of Baptist colleges in admissions and development, a pastor, a mission support and stewardship staff member of an ABC adjudicatory, and an area minister working directly with pastors and congregations.
A background in Biblical stewardship education and congregational transformation leadership.
Public speaking and preaching
Relationship building, mentoring and coaching
EDUCATION
Glenville State College, Glenville, WV – 1974 BA – Music Education
Central Baptist Theological Seminary, Shawnee, KS – 1992, M.Div
PROFESSIONAL EXPERIENCE
Alderson-Broaddus College, Philippi, WV Admissions and Development – 1974-1981
Franklin College of Indiana, Franklin, IN
Development staff – Director of Church Relations/Estate Planning – 1981-1986
Harry Levinson's Men's Clothing Store, Indianapolis, IN Sales/Assistant Manager – 1986-1988
Dillard's Department Store, Kansas City, KS, Sales Associate – 1989-1990
Wolcott Baptist Church, Kansas City, KS Co-Pastor – 1990-1992
Des Peres Baptist Church, St. Louis, MO — Pastor – 1992-1997
American Baptist Churches of Ohio, Granville, OH Minister of Mission Support – 1997-2005
American Baptist Churches of Ohio, Granville, OH Minister of Congregational Development – 2006-2010
First Baptist Church, Newark, OH Interim Pastor– 2011-1012
ADDITIONAL PROFESSIONAL ACTIVITIES
Member of the Order of Luther Rice – American Baptist World Mission Support
Member of the "Generosity Gang," a volunteer stewardship team for American Baptist Mission Resource Development. Helped to write denominational stewardship resources.
Design Team Leader for the Ecumenical Stewardship Center's annual Leadership Seminar.
COMMUNITY ACTIVITIES
Member of the Land of Legend Barbershop Chorus (Barbershop Harmony Society) and have sung with a Barbershop quartet for over ten years.
Assisted with the Newark High School Choral and Drama
Departments as a proud parent (daughter graduated in 2011)
VOLUNTEER EXPERIENCE
Have participated with and led five different volunteer groups to Nicaragua working with ABC/USA missionaries
Working with the American Baptist Ministers Council as a volunteer on the Resource Development Team.